Aurora series | Perfect combination of technology and aesthetic design
author: Foshan Queenswood Kitchen & Bathroom Industrial Co.,Ltd
2020-12-17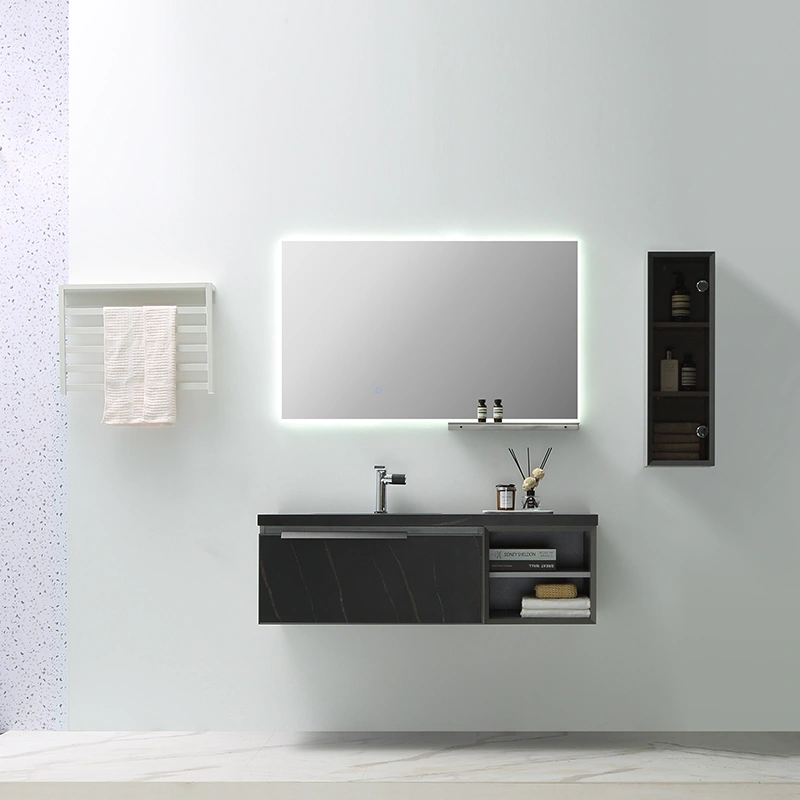 There is a saying that 
"
Design inspiration comes from life and 
also
 higher than life.
"
 Our 
Aurora series bathroom cabinet
 is Fully reflects this sentence
.
Elegant ceramic slab counter top
,
one-piece ceramic 
under counter top 
basin
,
Smart LED mirror and 
lighting 
drawer
, 
they 
unique
integrated with the modern and simple style
.
The fusion of art and nature makes life full of texture
For matching m
odern, simple and stylish aesthetic design
,
we use 
ceramic
 slab as 
counter top
 and drawer door
.
It
break the routine and renew your perspective
,
while increasing the sense of space, also reflects the consumer's 
elegent 
lifestyle. 
The ceramic slab material
 has high temperature resistance and does not change color
,
zero formaldehyde, abrasion and scratch resistance, zero penetration and no dirt absorption.
Its unique texture color and delicate lines
,
not only Mysterious and sexy but also atmospheric and steady
,
perfect display of luxury and refined high-grade atmosphere.
Compared with traditional black
 color
,
Sharon Black reduces the saturated dark colors and increased texture
,
have 
better sense of 
classical and profound, it looks more refined, 
makes you never feel
 dull nor arrogant
 in the bathroom
.
It highlights the presence of personality 
with the aesthetic pursuit of integrating into the bathroom space.
T
he fashionable style continues in every texture. In different details, you can feel the calmness and independence of 
Sharon
 black, harvesting a sense of tranquility and luxury.
ONE
We use Ultra-thin square acrylic LED mirror (only 1cm thickness),the slender appearance can bring a visual sense of spaciousness. The use of acrylic luminous tape has the toughness of plastic and the transparency of glass, and the light transmission effect is excellent.The use of lighting effects to render the style and atmosphere of the bathroom not only improves the brightness of the bathroom, but also injects more fashion factors into it, and brings more refined space experience.
There is a fully open shelf under our mirror
, which can be used to place small objects commonly used in daily washing.
TWO
The most eye-catching space is the white ceramic basin which under our ceramic slab counter top, which is calcined at a high temperature of 1280°. It is smooth and white, not easy to deform, and has a water retaining edge to prevent splashing. The white ceramic basin and Sharon black cabinet surface can produce a strong sense of design , and the large-scale black and white contrast of the bathroom cabinet can make people feel freedom.
THREE
We use a 45-degree angled handle with 
our orignal
 mold opening, which can be pushed and pulled freely
 in using
, and the 
handle 
details fully demonstrate the quality of the design. The small 
part of 
handle 
in 
bathroom cabinet can also add the 
unique design sense
 to your bathroom.
FOUR
The frame shape with clear edges and corners
,the elegant 
neat lines, coupled with the soft corner design, is more modern and fashionable
.
FIVE
The open-close light-emitting drawer adopts independent battery power supply
, which eliminates the trouble of rewiring. Commonly used batteries can be replaced.
 It will light up when pulled out. It not only adds light and shadow effects to the space, but also assists in lighting
, making it easy to find items
,
full of sense of technology.
SIX
Our drawers have large capacity partition storage,can put down the daily necessities.In addition,plus independent open drawer shows better the storage capacity. You can also match our side cabinet,not only add the storage space in the bathroom, but also shows greater beauty of the bathroom.
Different
 sizes,
match different needs in your bathroom
An exquisite bathroom cabinet,
of course meets the requirements of  function and beauty,
from layout, material selection, space design to detail processing,
every link is carefully crafted,
everywhere reveals an ingenuity of life.