DOMINO|Domino's bathroom space
author: Foshan Queenswood Kitchen & Bathroom Industrial Co.,Ltd
2020-12-19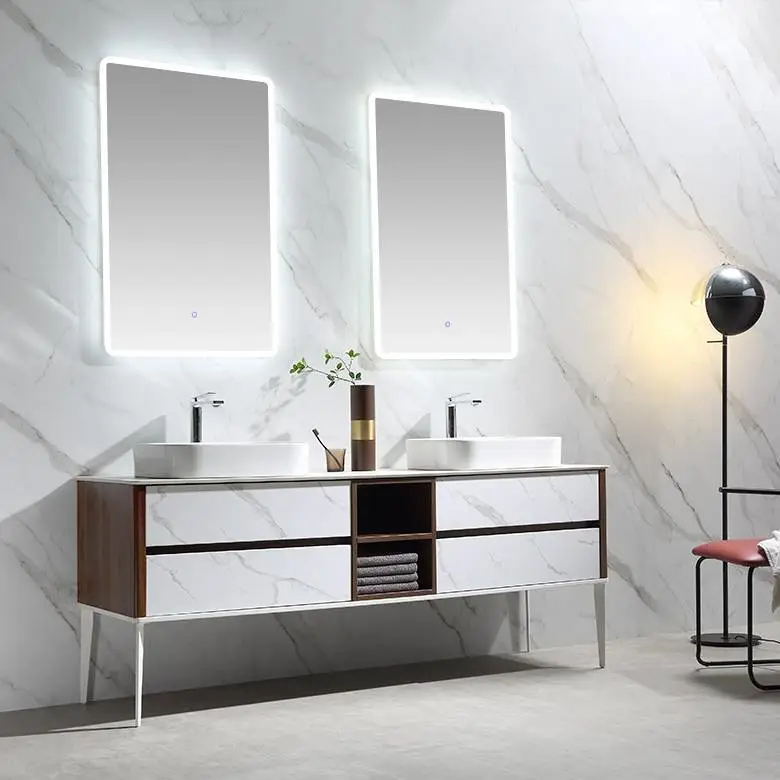 Feel the artistic beauty of the bathroom space
Ideal bathroom space at

 Queenswood
Many people
 dream 
of 
ha
ving their own
 quiet and simple space
,
no unnecessary element
 in their personal space.
T
he ideal bathroom 
is 
beyond all the mundane, return to nature,
and everything can meet the design requirements.
The design of DOMINO SERIES is based on 
the concept of ideal bathroom space,
foreshadows of the bathroom cabinet design and development in the future.
Its use of natural materials design is particularly rare in the industry,
It has far-reaching memorial and reference value.
DOMINO SERIES
▼
Besides the special concept,
we also have strict requirements on design,raw material and produce process.
Domino series adopts Personalized natural texture ceramic slab as major elements,
provides variety of matches and specifications(size).
Our designer adopts "natural" as the design element,
Combines white ceramic slab with Walnut grain color,
Gives DOMINO series
Fashionable, natural and modern cultural precipitation
What makes natural marble noble,
Because of its uniqueness.
Its Interlaced texture Decorates well in bathroom space
Makes you feel free and relaxed when you wash in morning
When the rock white meets the walnut,
Its simplicity color combination
 reveals elegant temperament and art.
Say goodbye to the mess storage in your bathroom, 
Domino has big drawers for your small items storage.
Humanize drawers and silent soft closing effect,
Bathroom cabinet good partner · large capacity drawer
Provides you quiet and comfortable environment.
Reasonable storage design shows the beauty of minimalism.
 Hidden storage design in Two-door mirror cabinet,
 highlights quality in its simple design
If you need enlarge storage capacity, 
release bigger space for the bathroom,
You can add External side cabinet which has Layered storage,
It combine with function and flexible storage.
We not only Understand space, more understand you.
There is a pursuit called artisan spirit
Keep improving and make every detail perfect
Experience the conciseness of the arc of the corner
With stainless steel paint cabinet foot metal texture
A balance of firmness and softness
Created the soul of DOMINO
WHOLENESS
 ▼