How to Choose a Suitable Bathroom Cabinet
author: Foshan Queenswood Kitchen & Bathroom Industrial Co.,Ltd
2021-12-10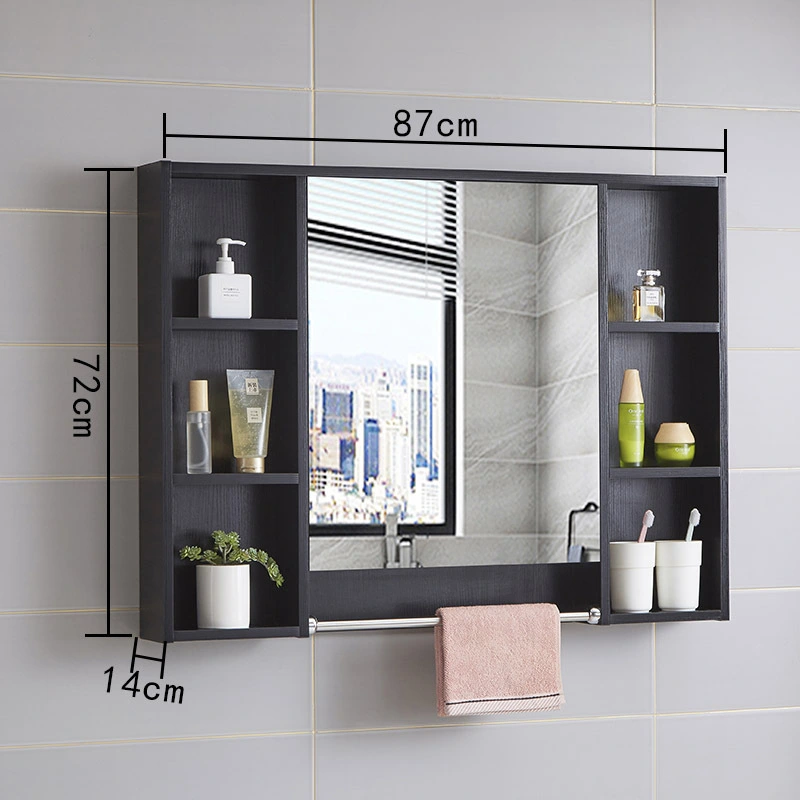 The three main pieces of furniture in the bathroom are toilets, shower and bathroom cabinets. The selection of bathroom cabinets is more complicated than the other two pieces of furniture. Therefore, when choosing storage cabinets, we need to pay special attention to their materials and styles.
Different Styles of Bathroom Mirror Storage Cabinets
The styles of bathroom cabinets are mainly divided into the suspended type and ground type.
Hanging bathroom cabinets are relatively small in size, and the bottom is suspended, so it is easier and more convenient for you to clean. However, it has relatively high requirements for installation, so it is best to choose a solid wall for installation.
Floor-mounted bathroom cabinets have large storage space and take up more space, so they are not suitable for toilets with a relatively small area. This type of bathroom cabinet has relatively high requirements for the separation of dry and wet toilets, and the style of this bathroom cabinet is generally American or European.
The styles of bathroom cabinets are modern, Chinese, American and so on. The bathroom cabinet you choose is best to be consistent with the overall home improvement style.
What are Bathroom Mirror Storage Cabinets Made of?
Solid wood bathroom cabinet
This material has better environmental performance than wood-based panels. It is very strong, but its price is much more expensive than ordinary boards. Solid wood bathroom cabinets also have very high requirements for the production process, otherwise, it will be difficult to ensure its beauty in such a humid area in the bathroom for a long time.
The waterproof performance of this material is excellent. Compared with solid wood bathroom cabinets, it is cheaper. But its texture is not good and it is not environmentally friendly. Although some people think it has zero formaldehyde, many additives are used during processing.
Wood-based bathroom cabinet
Wood-based panels are what we often call particle boards, ecological boards, and so on. Many bathroom cabinets will use wood-based panels. Compared with solid wood, wood-based panels are stronger and have excellent waterproof performance. They can be customized into various shapes. Wood-based bathroom cabinets are very cost-effective, so they are the choice of most families.
In the selection of bathroom cabinets, in addition to paying attention to the above two aspects, there are also some buying tips.
Three Tips for Buying Bathroom Mirror Storage Cabinets
1️⃣ Consider decoration styles
In order to match various decoration styles, bathroom cabinets on the market are generally designed in a modern and simple style, which can fit most people's decoration styles. However, there are fewer bathroom cabinet styles that can be selected for Chinese decoration styles. Therefore, you must first understand the overall style of your home before choosing the style of the bathroom cabinet.
2️⃣ Don't choose very small size
Unless your bathroom is very small, don't choose a very small bathroom cabinet. Small bathroom cabinets will make your bathroom more crowded. According to my own real experience, I suggest you choose the size as large as possible.
3️⃣ Take note of bathroom cabinet accessories
When purchasing a bathroom cabinet, you also need to know whether the metal fittings on the bathroom cabinet are moisture-proof and waterproof. It is best to choose stainless steel or special aluminum products for bathroom cabinets. Because if you use copper or iron products that are easy to rust, you will be troubled in daily life.
When buying a bathroom cabinet, you need to consider many factors, such as material, style, your actual needs and so on. If you want to customize a suitable black wall- mounted bathroom mirror storage cabinet with led lights, please feel free to contact us.
CONTACT US:
? Phone: +86 577 61666 016  
? Email: wzxikai@wzxikai.com