ISTAR | Istar Series,Every detail reveals the sense of ritual pursued by young people
author: Foshan Queenswood Kitchen & Bathroom Industrial Co.,Ltd
2021-01-18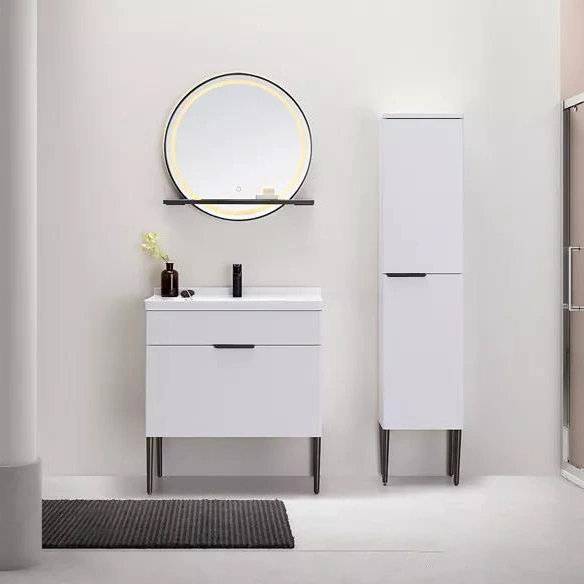 Exquisite enjoyment
A sense of ritual is indispensable in life.
ISTAR series floor-standing bathroom cabinet
Foresee the beauty of life with the ingenuity of details. A work of ingenuity, every inconspicuous corner has been carefully carved.
It is said that details determine success or failure, career is like this, life is even more so. And in the bathroom, the most private and relaxed space, do not need luxury decoration, also do not need heavy decoration, concise and comfortable.
Attentively making the space perfect is the key to improve the sense of space and the quality of life. Gather the essence in one body, and run through the future life with ingenious details.Demonstrate a low-key and connotative demeanor.
Four size bath cabinet: More options size,Integrity, coordination
The stainless steel titanium gray electroplated handle is matched with high-gloss white plywood , noble and elegant. Four sizes are available: 700cm, 800cm, 900cm and 1000cm, suitable for different spaces.
TIPS: It depends on the size of the bathroom. If necessary, it can be used with side cabinets to expand the storage space.
Main cabinet size: 100cm
Optional wash basin or art basin
Main cabinet size: 90cm
Optional wash basin or art basin
Main cabinet size:80cm
Optional wash basin or art basin
Main cabinet size:70cm
Optional wash basin or art basin
Considerate design/ceramic basin
High-end,clean,convenient
The ultra-deep large-capacity high-temperature ceramic basin is specially designed for consumers in the Chinese market. The high water edge can prevent water from splashing out more effectively.
In addition to basins, high temperature art basins in the artificial stone counter top can also be used. While satisfying the individual pursuit of young people as much as possible, they can also enjoy the satisfaction brought by washing.
TIPS: Avoid hitting with hard objects and scrubbing with steel wire balls to prevent damage to the glaze surface.
High temperature glazed basin  
  High temperature glazed art basin and marble countertop
Multiple storage/drawer
Simple,directly,convenient
According to the lever theorem, the drawers with sub-black stainless steel curved handles are easier to open.
The latest ultra-thin steel drawer, adhering to the Queenswood service first ,according to most people's living habits, the drawers are reasonably divided by sub-black small grids. Classified storage, save more than 30% space than no grid storage.
TIPS: You can wipe the inside of the drawer with a damp cloth. The board is waterproof and moisture-proof. You can place items after the water is dry.
Smart led mirror
Intelligent,good looking
Warm yellow LED round mirror, enter and exit the bathroom late at night, to avoid the dazzling light to drive away the drowsiness.
There are obvious differences with ordinary LED mirrors. The ISTAR series LED round mirrors are equipped with stainless steel titanium gray plating racks, which are easy to take.
TIPS: Handle with care, the preferred place for women's skin care products.
There is no need to worry about insufficient memory in the bathroom cabinet, and the side cabinet has more storage space. 
There are multiple compartments to classify and store daily items, making life more ritual.
TIPS: A 700cm bathroom cabinet can be used in a small bathroom.
Simple and clean/floor-standing legs
Clean and high quality
The bottom of the bathroom cabinet is a hiding place for bacteria, but the sub-black stainless steel cabinet feet let bacteria have nowhere to escape. For the healthy life of your family, ISTAR bathroom cabinet is one of your first choices.
TIPS: Avoid hitting with hard objects.
—END—