Simple life, not simple enjoyment, Queenswood builds a home with you
author: Foshan Queenswood Kitchen & Bathroom Industrial Co.,Ltd
2021-01-22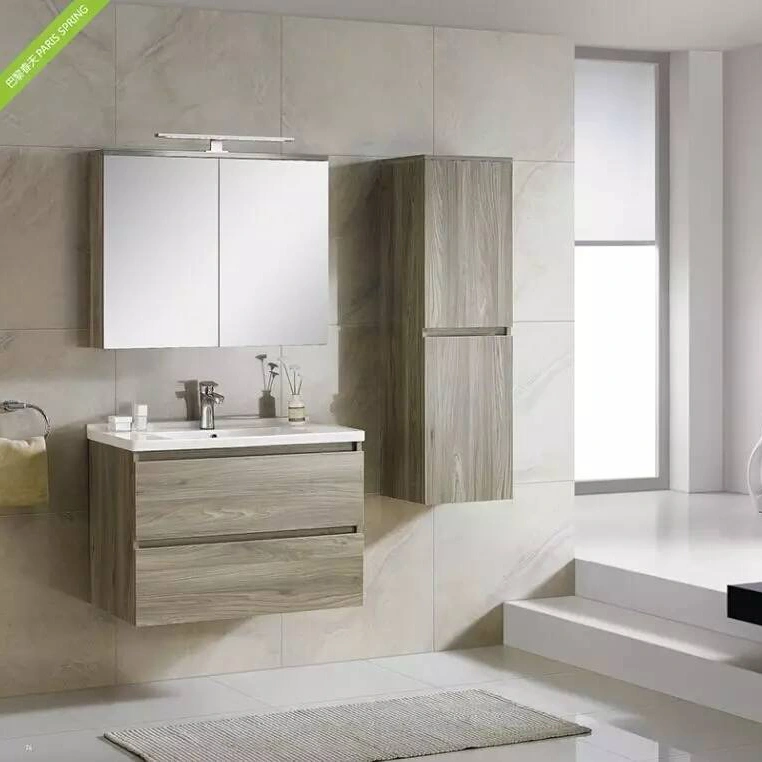 Augeuste Rodin, a famous sculpturer in France, said "Beauty is everywhere. It is not she that is lacking but our eyes which fail to perceive her."
It is ture that beauty hide from view. Let Foshan Queenswood take you walking a beautiful journey.
Grey Walnut Wall Mounted Bathroom Cabinet with Drawers--PARIS SPRING
 1 
Wash away the dust on your body, wash away the worries in your heart, bathe in the rippling of your soul, and the bathroom will give you a new look. As the interior decoration styles are extremely diverse, the bathroom cabinets in the bathroom should also be carefully matched. Relax yourself in the bathroom.
Cabinet Material
Waterproof plywood with melamine surface, keep it from mildew 
comtracted romantic style, simple wood grain, European feeling
 2 
Mirror is essential in the bathroom. Bathrooms wrapped in mirrors, even bathroom cabinets, are no exception. Such a space should also have a sailing style. In addition, the silver in the entire space seems to overflow.
In the light-colored world, the gray walnut bathroom cabinet accidentally squeezes out a corner, but it also looks quite coordinated, atmospheric and simple.
The waterproof fog mirror is feactured with ambient light, transmitted light display, reflection mirror effect, transmission protective film. mirror reflective effect, tempered glass layer, shield layer.
Main cabinet size: 600mm, 800mm, 1000mm, 1200mm
 3 
Simple design and beautiful bathroom
This simple design boasts beautiful wood details.
The hidden handle keeps the bathroom space more beautiful and simple, and the bathroom cabinet is large enough to hold a variety of bathroom products. Distinctive dseign--The square wash basin and the mirror echo each other.
Glazed ceramic basin with beautiful line
Behind the silver mirror which is corrosion resistant collects 
all kinds of skincare, perfume and so on.
Soft closing hinge makes the move easy and smooth.
Gray walnet is full of mature and steady,
which is the best choice of you.
Worth to getting one, let it make bathroom Beauty simple. 
Welcome to contact us sales@queenswood.com.cn.
 Phone is also welcom.  
+86 13620143634,  
+86 18816780262.