SOLO Series|Simple But Extraordinary
author: Foshan Queenswood Kitchen & Bathroom Industrial Co.,Ltd
2020-12-19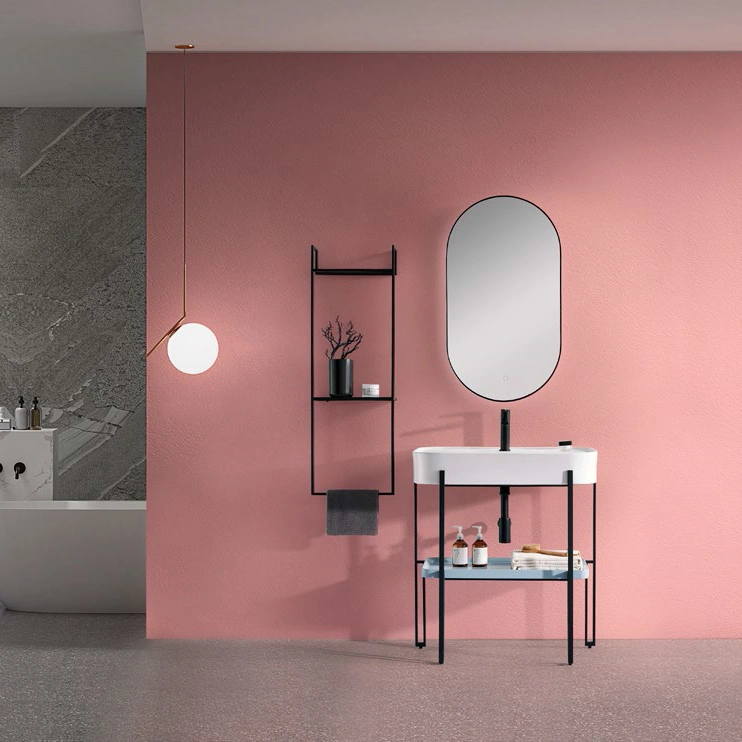 Solo series is designed
 carefully
 & 
creativity
,
shows
 high quality and simple style to make an elegant life.
The 
elegance
 of 
white one
and the 
classic
 of 
black
shows
 the simplest but the most eternal way
 in our life
.
INS 
Simple 
S
tyle
▼
The modern simple decoration style caters to the young generation's preference. 
The busy life in the city has made us tired of feasting. 
We hope we have a quiet, peaceful and comfortable home to eliminate work fatigue and forget the noisy city.
 In order to pursue simplicity and practical simplicity, Solo series bathroom cabinets can be described as conscience.
S
olo series can match 
any 
style 
decoration
 and 
give you 
special
 style and quality.
Simplicity/fashion/
 personality
Its simple shape is very eye-catching.
It uses matte
d
 black stainless steel brackets 
combine with
 white ceramic basin.
It uses modern and simple black and white fashion elements as a collocation
,
 not restricted by any era or trend, 
makes the bathroom 
simple and stylish.
The perfect design details show the modern and practical qualities of the bathroom cabinet.
 It is suitable for modern and simple style family bathrooms. A comfortable life starts here.
Part.1
Exquisite details, Smooth lines, Comfortable life
Inspiration comes from our life. The graceful and smooth shape outlines pure texture, showing a comfortable life which is simple and elegant.
Part.2
 capacious storage to put something you want.
A storage board is added at the bottom,
the completely open storage design breaks through the traditional and unrestricted design.
You can use common items at any time, such as mouthwash cups, hand sanitizer, towels, etc.
The storage of the entire bathroom is more free and diversified to restore the cleanliness of the bathroom.
Part.3
High quality matt
ed
 black stainless steel bracket
Match
 floor 
standing 
matte
d
 black stainless steel bracket
The stainless steel surface is finely drawn, not easily deformed,
has non-slip and corrosion resistance, zero formaldehyde, environmental protection and durable.
The fixed beam has strong bearing capacity and stability.
Never saving
 cost
 on quality
, for 
making 
thoughtful design.
Part.4
high-definition 
led
 mirror
LED smart high-definition mirror
HD imaging, clear,no deformation, anti fog, high reflectivity, not easy to rust point, 
one-click sensitive touching lighting
There is a hook on the back, which will not fall off easily
Black mirror frame, young fashion
The back also emits white light, high-definition fill light
Sensitive touch switch, safe and convenient
The oval-shaped hanging mirror,
the designer has done many researches to balance between safety and beauty,
and fully integrates the visual aesthetic design,
 so that the arc luminous band is combined with the mirror,
showing a delicate and delicate beauty,
which is a brightening point for space decoration.
The black frame and the stainless steel black frame complement each other, 
making it younger and more fashionable.
Smart touching, safer and more reliable.
High-definition mirror, clear and uniform imaging, anti-fog, high reflectivity and pressure resistance.
Enjoy life and meet the most beautiful yourself.
Part.5
high temperature
 glazed 
one-piece ceramic basin
The ceramic basin is fired at high temperature and is integrally formed.
It is strong and not easy to crack,
and it is smoothly glazed and easy to maintain.
When you Touch gently can feel delicate and smooth.
Can be matched any decoration style, give you special quality of life
L
ightweight, space-saving, personality, Simplicity and fashion , this is wise choice for young people.