Wall Mounted Cabinet vs. Freestanding Cabinet
author: Foshan Queenswood Kitchen & Bathroom Industrial Co.,Ltd
2021-06-16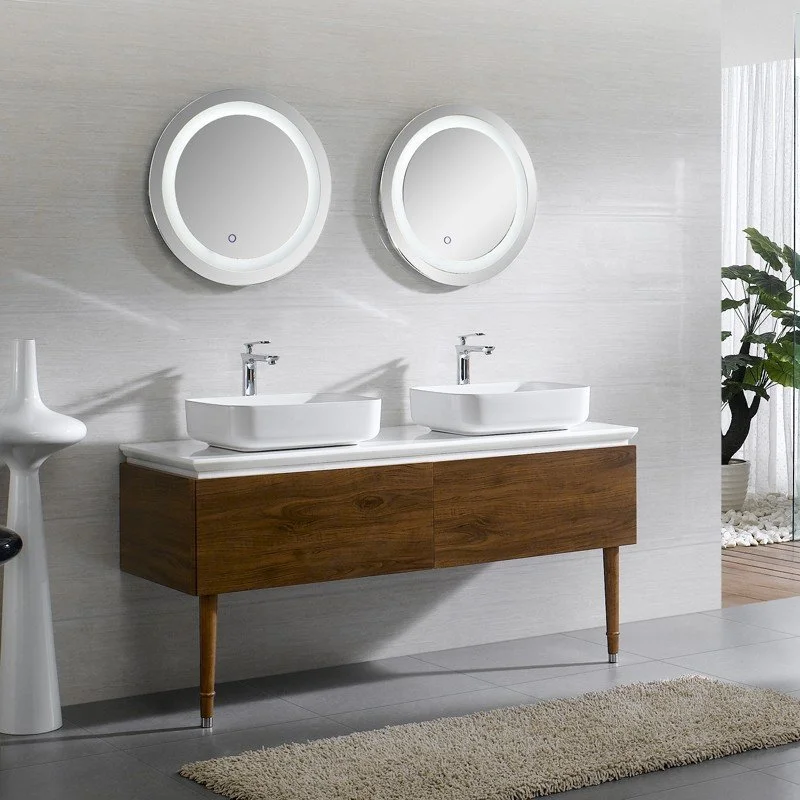 1. Wallmounted cabinet
A wall mounted cabinet can make a smaller room look bigger as it allows more of the floor to be seen.
For small apartments, wall-mounted bathroom cabinets will be a good choice. They do not take up floor space and are mostly compact and lightweight. And because it is suspended, the sanitary underneath is easier to clean up, and there are no dead corner.
It's a good choice for people who don't like cleaning up, but it's more troublesome to install. Its installation problem is mainly about the drain exhaust mode. Is it wall exhaust mode or floor exhaust mode.
It will directly affect its beauty and decoration. For the whole hall, the wall water exhaust mode will be more tidy and beautiful, and the drain pipe is easy to be exposed to the outside, so it is easy to be damaged and not beautiful.
you need to know that the wall mounted cabinets should be installed on a load-bearing wall or a solid wall. Be sure that your wall is strong enough to support the weight of the cabinet itself and of things inside.
If the wall body cannot bear the weight of the bathroom cabinet, the bathroom cabinet may fall off easily. 
Choose wall mounted cabinet with high quaity. Queenswood is professional plywood bath cabinet manufacturer, and we have our own China wall mounted vanity factory. The quality of our cabinet products are guaranteed by years of experience and reputation.
2.  Freestanding Cabinet
A freestanding cabinet, on the other hand, can be moved around the room and can be taken with you if you decide to move house. 
small freestanding cabinet China
You don't have to buy freestanding bathroom furniture from specific bathroom retailers as most types of shelving units or cabinets are suitable for bathroom. As a professional modern freestanding cabinet supplier, Queenswood have many types of freestanding cabinets for sale. 
And the installation of freestanding cabinet is not restricted by the wall, and the layout is flexible. Because it is based on the ground, it can store heavy objects and has a large storage space. Installation is simple and convenient. But it has many shortcomings, the first one is taking up space. Freestanding bathroom cabinets are usually relatively large in size, so they will take up more space on the ground. If it is in a small bathroom, it will be more crowded and not applicable.
The second is that because the water vapor comes from the ground and the bathroom cabinets are mostly made of solid wood, they are prone to moisture over time. Good ventilation will stop paint from peeling on furniture or from wicker furniture developing mildew. The third is that it is prone to blind spots, and cleaning will be more laborious.
modern freestanding cabinet China
The above is the answer to which wall mounted cabinet or freestanding cabinet is more moisture-proof and wall-mounted cabinet or floor-standing cabinet. You can choose whether it is a wall-mounted cabinet or a floor-standing cabinet according to the specific conditions of the bathroom at home.
Want to know more about modern wall mounted cabinet and freestanding cabinet China
, please visit our website— ?www.foshanqueenswood.com