Useful Tips For Choosing A Bathroom Vanity
author: Foshan Queenswood Kitchen & Bathroom Industrial Co.,Ltd
2021-03-12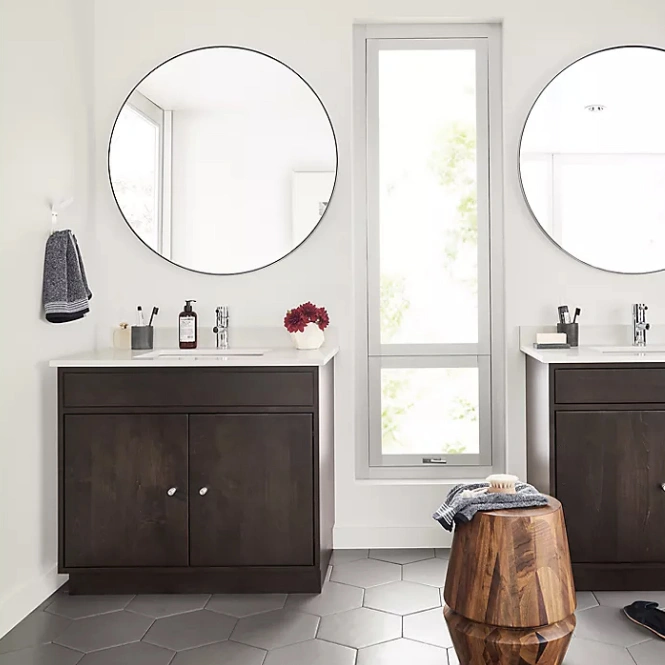 Many homeowners may have spent a long time buying bathroom vanities. After all, they have to stay with us for a long time and do not want to replace them later. Although many people focus on the appearance, there is still a lot to pay attention to. Therefore, mastering some purchasing skills is very useful for purchasing bathroom vanities.
Types Of Bathroom Vanity
Basically, the products of the above counter vanity, under counter basins, wall-mounted basins, and pedestal basins are the same, but they are different in color, size, and depth.
Material
In traditional concepts, ceramics are used as raw materials for vanities. But now glass, metal, and synthetic materials can all be used to make vanities. Especially in recent years, the crystal clear and colorful glass vanities have been favored by designers and homeowners.
Appearance
In the past, most of the wash basins were round. Today's vanities are very personalized. They may be square or long. They may also be six-sided and fan-shaped. Some are like bowls and some are like caps. This kind of "individualized" bathroom wash basin brings richer colors to the "individual bathroom".
Dimensions Of Installation Location
When choosing a vanity or a pedestal basin, the width and length of the installation position should be used as a reference. Generally speaking, as long as the width of the countertop is more than 52 cm and the length is more than 70 cm, there is a very large room for buying a basin; if the length of the countertop is less than 70 cm, it is best to choose a pedestal basin. If you choose a counter basin, it will affect it Installation effect, and it will be more difficult to choose the basin.
Overflow
Finally, you need to pay attention to the "overflow". Many wash basins have an "overflow port" near the upper edge of the basin mouth. When the water level of this type of wash basin reaches the "overflow port" during the process of discharging water, the "excess" water will follow the "overflow port". "It flows into the drain pipe, but if there is no wash basin with an "overflow" design, when the tap water exceeds a certain amount, it will fill the basin or even flow to the ground, making the floor wet and dirty.
QUEENSWOOD, a bathroom vanity manufacturer in China, believes that we'd better choose vanities with overflow, and also should pay attention to whether the "overflow port" can work well.
If you are looking for bathroom vanity, you can click here for more product information.